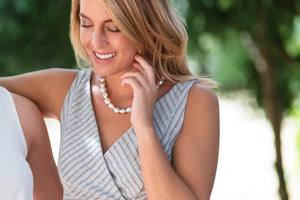 5 Simple Reasons Why You'll Love Our Jewellery
Reason 1: Beautiful and Forever Special
At the heart of every piece of Pearl-Lang jewellery lies the unrivalled beauty and radiance of the pearl. Pure, lustrous and precious, each piece is irresistible to the eye and sensual on the skin. The incredible glow and unique tenderness from our pearls are truly special.
Inspired by Nature
Our Design Philosophy
We focus on creating the perfect jewellery that is effortless, fluid and uncomplicated. It is our belief that the pearl should be the hero of each design. Each piece is made in a way that lights every complexion, and adds an instant touch of elegance to your outfit.
Reason 2: Unique and Versatile
Every single pearl from our jewellery has its own remarkable journey. It has a unique and personal connection to you as a symbol of happiness, love, resilience, and strength. Each piece is perfect to accompany you every day and celebrate those special moments in your life.
Beyond the Boundaries of Typical Styles
Exciting Varieties of Pearls
From the classic round to one-of-a-kind baroque shapes, and the astonishingly beautiful shades of white, pink, green, grey, gold and many more, our jewellery is made with the finest freshwater, akoya, South Sea and Tahitian pearls.
Reason 3: Timeless Quality
The attention to detail and the high standard of quality are what makes us stand out. Every Pearl-Lang piece is crafted with high quality 18k gold, diamonds or sterling silver to the utmost perfection.
Craftsmanship
Superior Quality
We focus relentlessly on the superior quality we offer. Each piece is meticulously crafted with high quality 18k gold, diamonds or sterling silver. At its core, Pearl-Lang jewellery is designed to live across seasons and generations.
Reason 4: Fine Jewellery For An Amazing Price
As we source our gemstones and precious metals directly from farms and manufacturers around the world, we are able to pass on cost savings to our customers.
Reason 5: Free Shipping + No Quibble Guarantee
We deliver our beautiful jewellery to you for free, wherever you are in the world. Plus if you are not totally happy with your purchase, you have our 30-day money back guarantee.