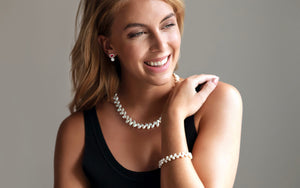 Amazing Pearl Gifts For Her
Superior Quality
For Now... and Forever
Finely crafted with 18k gold or sterling silver, each Pearl-Lang piece is irresistible to the eye and sensual on the skin. A present of ever-lasting beauty and forever happiness, the incredible glow and unique tenderness from our pearls are truly special.
Only the finest pearls, a mere 1% of the pearl harvest, are selected for our jewellery.
Classic Meets Contemporary
Look and Feel Amazing
So beautiful and stylish! Just wait until you feel that soft, luxurious touch on your skin from these little miracles of nature. Each piece is immensely flattering and is made to shine for years to come.
The Most Treasured Gift of Love
Uniquely Yours
No two pearls are the same. All your sharing, all your cherished moments will be echoed forever in these unique pearl gifts. Whether you're celebrating a special occasion or buying for yourself, these wonderful tokens of love are guaranteed to make you smile.