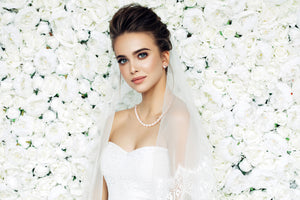 For You, and Forever
Every love story is precious and unique. So is a pearl where beauty takes time to form, endurance and strength to grow. Elegant and timeless, pearls are a beautiful choice for bridal jewellery on your wedding day.
Individually Crafted For You
The Pearl-Lang Difference
Pure, lustrous and precious, every Pearl-Lang piece is irresistible to the eye and sensual on the skin. Our highly accomplished pearl graders assess each pearl individually, meticulously scrutinising each one based on the seven GIA value factors of lustre, size, shape, colour, nacre, surface, and matching.
Only the finest pearls, a mere 1% of the pearl harvest, are selected for our jewellery.
Elegant & Sophisticated
Get Your Dream Bridal Look with Pearls
Check out our guide on how to wear this special gem on the most romantic day of your life.
Read More